Edification and Education
Publication Date :
Last updated:2021-08-20
View count:3784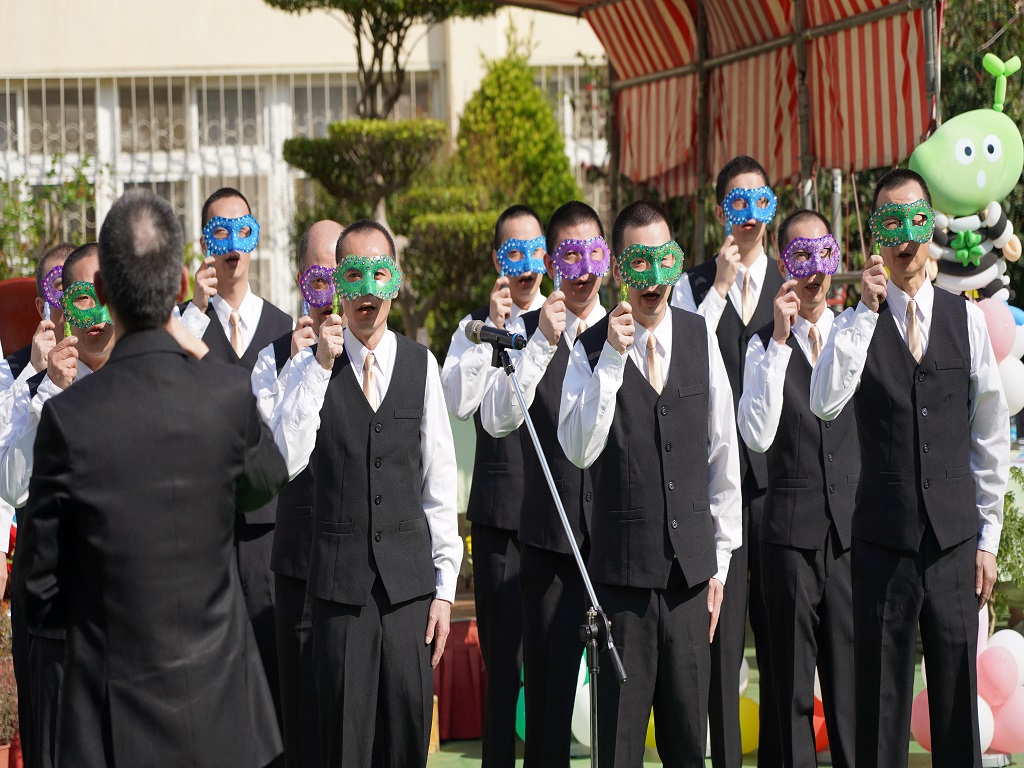 Edification and education is the centerpiece of the corrective program in penalty execution. In fulfilling this task, the prison sticks to four ideals: making prison administration humanistic, rational, transparent, and school-like. When the prison conducts educational activities and skill trainings, it always sees to it that while serving prison sentence the inmates will continue to absorb new knowledge so that they are not alienated from society. Our goal is to execute penalty under the framework of society. Imprisonment is re-education aimed to turn bad elements into good people, to prepare them for life in society after discharge, and to make society crime-free.   
I. Education
Individual education:
There are one or three counsels in each educational block and every inmate in the educational block shall be educated at least once every three months. Sexual assault, domestic violence or special controlled inmates shall be taught at least once a month.
Special education:
Strengthening counseling and communication for inmates with special cases (including awards, punishments, illnesses, bereavement , family changes, advancement, etc.) or disciplinary violations to stabilize their emotions and allow them to serve their sentences with peace of mind. 
Collective education:
Counsels and volunteers announce useful content to help inmates to change for good, or to invite experts, scholars, and people with great expectations to lecture relevant laws, interpersonal relationships, stress adjustment, medical knowledge or Religious and other content. Prison holds collective education at least 12 times a year, so that the inmates can still absorb new knowledge and cultivate the heart during the prison sentence.
Religious education:
Each educational block has a solemn and solemn buddhist temple and other religious churches. According to the religious beliefs of the host, the temple mage, pastor, priest and other religious teachers are urged to supervise the evangelism, carry out religious propaganda activities, and invite religious groups. Give religious books worthy of self-cultivation for the prisoners to read. Large-scale religious activities are also held from time to time, such as the invitation of Shi Jieyao Master, Taichung City Buddhist Association, Catholic Prison Service, Changhua City Guangyuan Temple, Pastor Dong Yuechun and other religious figures to lecture, through various types of religious activities, Wash the soul of the inmate and inspire its good nature.
Promoting spiritual improvement – Prayer, repentance, and scripture-reading sessions are given to inmates of different beliefs at 08:15–08:30 a.m. and 05:15–05:30 p.m.
Broadcasting sound books – Sound books are broadcast to cultivate the reading habit among inmates and improve their temperament for attainment of the goal of corrective education.
Volunteer counseling:
In order to solve the insufficiency of the  education manpower, the prison combines social resources and recruits enthusiastic people to be education volunteers. In accordance with the spirit of the Volunteer Service Law, the prison hires education volunteers and recruits social volunteers to join the collective education or individual counseling methods in order to assist the education and counseling of the inmates.
Industry-university cooperation:
The prison also provide internship places and counseling objects for the social work department, sociology department and related psychology and counseling departments of universities, and the internship group counseling courses for the students and seniors in the department, so that students can combine theory and practice together. By this way, the prison can deepen the counseling of inmates and improve the effectiveness of education.
II. Edification
Propagating legal knowledge with CD's and films – Educational CD's are played and short films are projected to inmates, including the publicity films made by the Ministry of Justice. This is intended to augment inmates' legal knowledge, dissuade them from committing an offense again, encourage them to follow good examples, and inspire them to move upwardly.
Holding life discussions – A monthly life discussion is held in each unit and a bi-monthly comprehensive life discussion is held by representatives of inmates. These two-way communications are intended to make prison management more humanistic and the environment, rational. 
Providing books – The prison has installed bookshelves at work places and published the Mind's Garden monthly to encourage contribution of articles by inmates. These are very helpful to inmates' self-improvement and their emotional stability.
Opening a calligraphy class – Teacher Chou Liang-tung, president of the Taichung Calligraphers Association, is invited to the prison to teach calligraphy to inmates.
Holding reaching classes – At least one reading class is held every month in each block of the prison in order to trigger the new way of thinking in the inmates and help them establish correct philosophy of life. Each month, a large-scale reading class is held, inviting representatives of reading organizations in society to give directions on the occasion.
Holding exhibitions and literary contests – Various exhibitions are held in the prison to reinvent the inmates. These include a book exhibition, writing and recitation contest, participation in the Female Dragon Calligraphy Contest, Taiwan Provincial Painting Exhibition, Da Duan Art Exhibition, Jade Mountain Art Exhibition, and Ministry of Justice's spring paper-cutting and autumn calligraphy contest held for its correctional institutions. In addition, the prison has invited a choir, a percussion music group, and a dancing group to perform for inmates. Still, the prison has organized lectures in cooperation with various religious organizations, in order to build up the cultural atmosphere in the prison.
In order to provide opportunities for the re-education and lifelong learning of inmates, the "National Air University Peide Teaching Location" teaching activity was held on February 13,2006. Since its establishment, the inmates have studied hard and get good grades. The prison also encourages inmates to participate in Literature Awards, all of which can achieve good results.
To assist the inmates who did not receive the initial full national education having the opportunity to re-enrich their studies during the implementation period, to understand the basic texts and writing methods, the prison established "literacy class" for inmates since November, 1994. Teaching volunteers use the national primary school as a teaching material to enhance the basic language ability of the inmates.
III. Cultural and Entertaining activities
Literary and recreational activities can enrich inmates' spiritual life and calm down their emotions. These can also promote esprit de corps and the sense of honor among the inmates. Therefore, these activities are valuable. Following are literary and recreational activities this prison has offered:
Installing recreational equipment – All working places have been installed with color television, accompanying musical machines, VCR's, DVD's, and cable channels for use by inmates at their leisure time. This is to carry out corrective education through entertainment.
Conducting competitions – Other literary and recreational activities include a recitation contest on the "Four Old Lessons" and a writing contest on the lessons learned from reading these Four Old Lessons. There are also tug-of-war, table tennis, patriotic song, KTV singing, volley-ball, and flower lantern-making contests. All this is intended to trigger inmates' potentials, sense of honor, and esprit de corps. 
Adding sports equipment – New sports facilities are added, including table tennis, basketball, volleyball, badminton, and indoor exercise equipment. Group callisthenic and jogging are conducted for inmates at the exercise time in order to form sporting habits.
Holding large-scale entertainment activities – These include traditional Chinese band, concert offered by the Christian after-care congregation, gospel activity offered by students of Providence University, a talent show by a Korean delegation, and rendition by this prison's traditional Chinese musical band and guitar band, KTV singing contest, patriotic song contest. All this is intended for inmates' physical and mental relaxation.
Offering inmate-family reunion service on festivals – These services are intended to assuage inmates' longing for their relatives and to make their relatives know the environment and corrective measures of the prison. On major festivals, such as Chinese New Year, Mothers' Day and Mid-autumn Festival, enlarged family reunion and call-to-mother services are offered.
Since September 2007, in the 2F walkway of Xiao block, the "Educational Exhibition Hall" and the "Lacquer Exhibition Hall" have been planned to display inmates' works and collections. The establishment of Exhibition Halls is not only to encourage inmates to be creative and innovative, but also provides the marketing interest of foreign visitors unserstanding correctional system.
IV. Talent training
Cultivating art talents – In January 2003, art studios were established, whose subjects are divided into the sculpture, lacquer, Western painting, ink and wash, and paint-mounting. In November 2003, bamboo-weaving was added. Teachers invited to teach at the studios include Huang Ying-pu, Huang Xie-tong, Chen Yu-duan, Wang Wei-ming, Shi Jia-xiang, Huang Mei-ling, and Li Rong-lie. The arts learned can help the inmates after returning to society.
Cultivating inmates' writing capability – For this purpose, Prof. Wang Ming-tung at the Chinese Literature Department of Providence University and writers Chen Shu-miao and Wu Yang-chun are invited to the prison to open classes. 
Organizing a traditional Chinese music class – Liao Mu-chun, a noted player of Chinese violin, and Liao Fu-lo, a noted player of pipa (a Chinese string instrument), and Rong Ta-wei, a flutist, are invited to the prison to teach the inmates. Pro. Chen Chih-kuang and teacher Nian Wen-sheng, two guitar masters, are invited to show their talents. All these activities are intended to increase the cultural qualities among the inmates and to reduce the atmosphere of violence.
 In order to carry forward the importance of the inheritance of folk art and craftsmanship and enhance inmates' various educations, so that the inmates can have the second specialty after learning the skills, which will facilitate the employment after discharge, the prison established Performance clubs such as "Lion Dance Group",  "Official Heads", "Jump Drums " and " Sichuan Opera changed face". Especially members of the changed face club can design and develop a variety of face-changing techniques and performance accessories by their own. These faces are produced in vivid, natural and varied performances.
Drama Club: To coordinate with the government's anti-drug policy, to prevent AIDS caused by needle sharing, the anti-drug and anti-AIDS campaign was launched through the anti-drug propaganda drama, and then the drama club was established in May 2007. It has also cooperated with the prison on many occasions to promote various propaganda and educational policies.
Electronic Music Club: To enable the inmates to get emotional adjustment from the study of traditional art, combined with improved computer pop music and dance performances, the prison  established the Electronic Music Club in 2008. This Club also cooperates with the Lion Dance Group to launch innovative electronic lion dance and electronic dance dragon performances.
Magic Club: In order to diversify the educational activities, cultivate the inmates' skills which are used to return to society, the Magic Club was established in early 2010, and its humorous and funny performances are very popular.
Choir: In order to express the emotions of the inmates, cultivate the mind and body, develop  singing interest, and create a sound living environment, Choir was established in the music classroom of the Ai Block in early 2010, and was practiced once a week, and was taught by Xiao Juming​.